I've been trying to get out and shoot for a while now, on a day with NO wind blowing and I finally got a "good" day today, and shot the best long-range group I have ever fired!
Today was heavy overcast, "0" wind @ 3:00 pm and 55 degrees. Even though there was very heavy cloud cover, everything looked very clear and crisp, meaning you could see for a long ways off...
I was going to shoot at my normal 600 yd. range but, with conditions being near perfect, at least for me, I decided to shoot out further than normal. I set my target up at 700 yds., 800 yds., and then moved out to 1,000 yds. but, things just started to get a little "fuzzy", I just could not quite keep my eyes in focus, so I moved back to 900 yds.. PERFECT!!!
I shot one fouling shot and then got on target. I normally just shoot 3-shot groups and why I shot a 5-shot group this time, I really don't know. I guess I just wanted to see what this rifle was really capable of...
Okay, this is my rifle, a custom Winchester in 30-284, shooting Hornady's 155 gr. A-MAX @ 3,400 fps....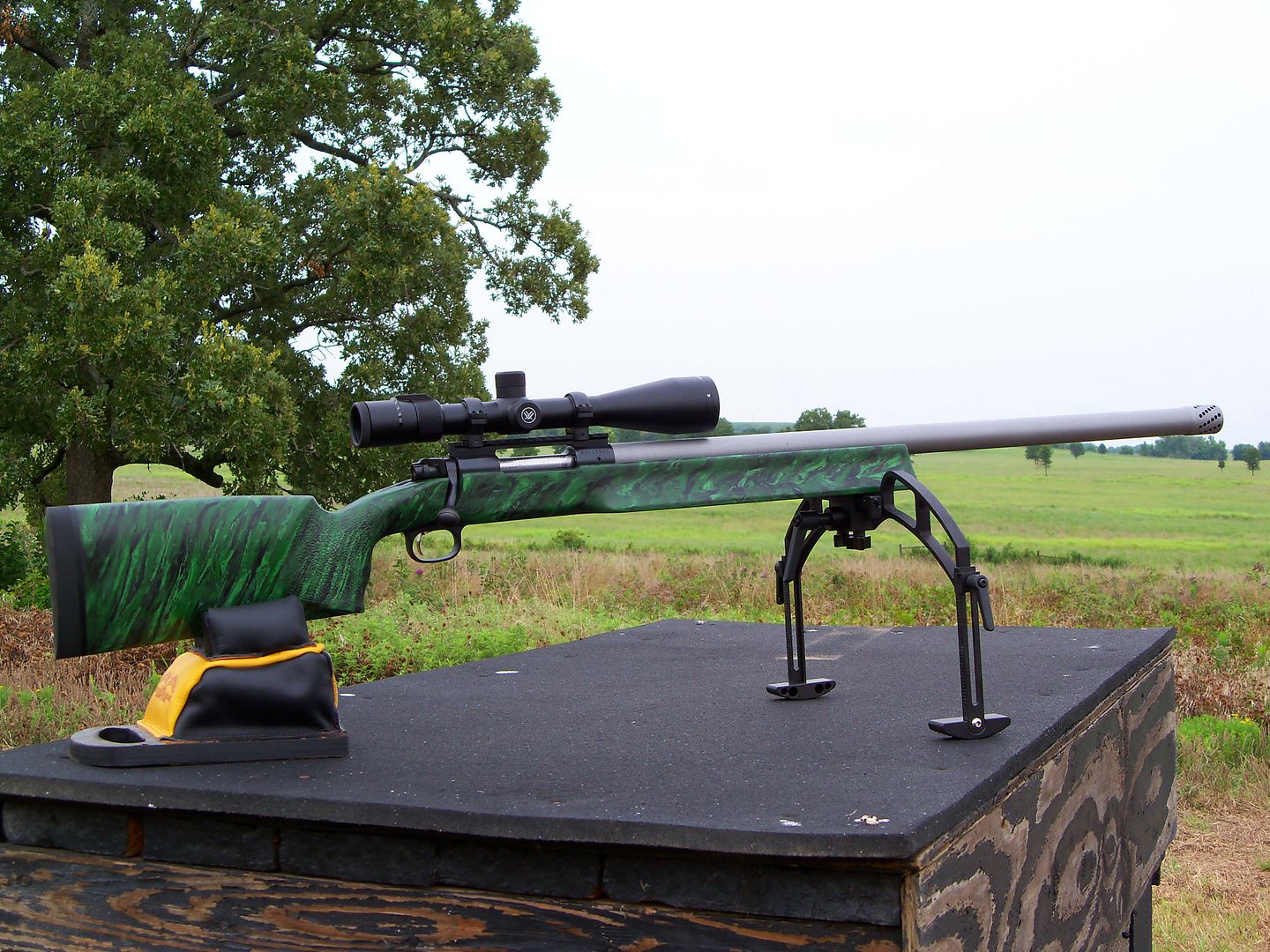 Here is my absolute BEST target to date -
After shooting this group at 900 yds., I made a couple of 1-shot-kills on gallon water jugs after dialing the scope in for each distance. This Vortex Viper scope "tracks" very well and is extremely clear...
800 yds...
1,000 yds...
600 yds...
700 yds...
*** Shooting was witnessed by 2 OHP Troopers and a friend***
My 30-284 is loaded using Lapua 6.5-284 brass, necked up to .30 caliber...
These are the loading dies I use...
308 Winchester is on the left for comparison, 30-284 center and 30-06 Ackley...
The 30-284 is loaded with Hornady's 155 gr. A-MAX and the 30-06 A-I is loaded with the 208 gr. A-MAX...
This is the load I am shooting:
CASE: Lapua 6.5-284 necked to .30 caliber / Match prepped...
PRIMER: Winchester WLRM...
POWDER: H-414 / 62.0 gr...
BULLET: Hornady 155 gr. A-MAX...
VELOCITY: 3,400 fps...
I did this shooting 1-week before I made the 900 yd. shot on the deer posted in another thread....