Well, got my laser range finder, loaded up some ammo, and joined the TacPro Shooting Center in Mingus TX. They have a range where you can shoot out to 1000 yards. Up until now I had done most of my longer range work out to 250 or 325 depending on the range I went to. I was very confident in what my rifle, scope, and ammo could do. I had four loads under 1 MOA, three of them 0.5 MOA.
Since I joined, I've been out to TacPro twice and have enough I can report some of what I have experienced. Shooting out to 500 yards has brought a few surprises. But this the real thing and why you practice. My initial plan was to set-up a target at 500 yards with enough vertical height to shoot with my 100 yard zero and group points of impact (POI) up to 54 inches below the point of aim. All my work up to 325 yards and ballistic calculations showed I had paper to spare. First surprise - the 150 gr Berger VLDs with their slick 0.531 ballistic coeffiecnt (BC) fell significantly short of the paper. Och! Second surprise - the 120 gr Barnes Solid which was shooting consistent 0.5 MOA, fell apart with groups greater than 3.5 MOA. Wow, there went both my loads that I was expecting to shoot out to 1000 yards with. Here is what my set-up looked like today, the second time I went out. I shot this after I reverified I had the correct 100-yard zeros. I used 8-foot furring strips to make sure my target was elevated high enough above my 4-foot section of cardboard. You can also see my groups and how there was a significant separation in the POI.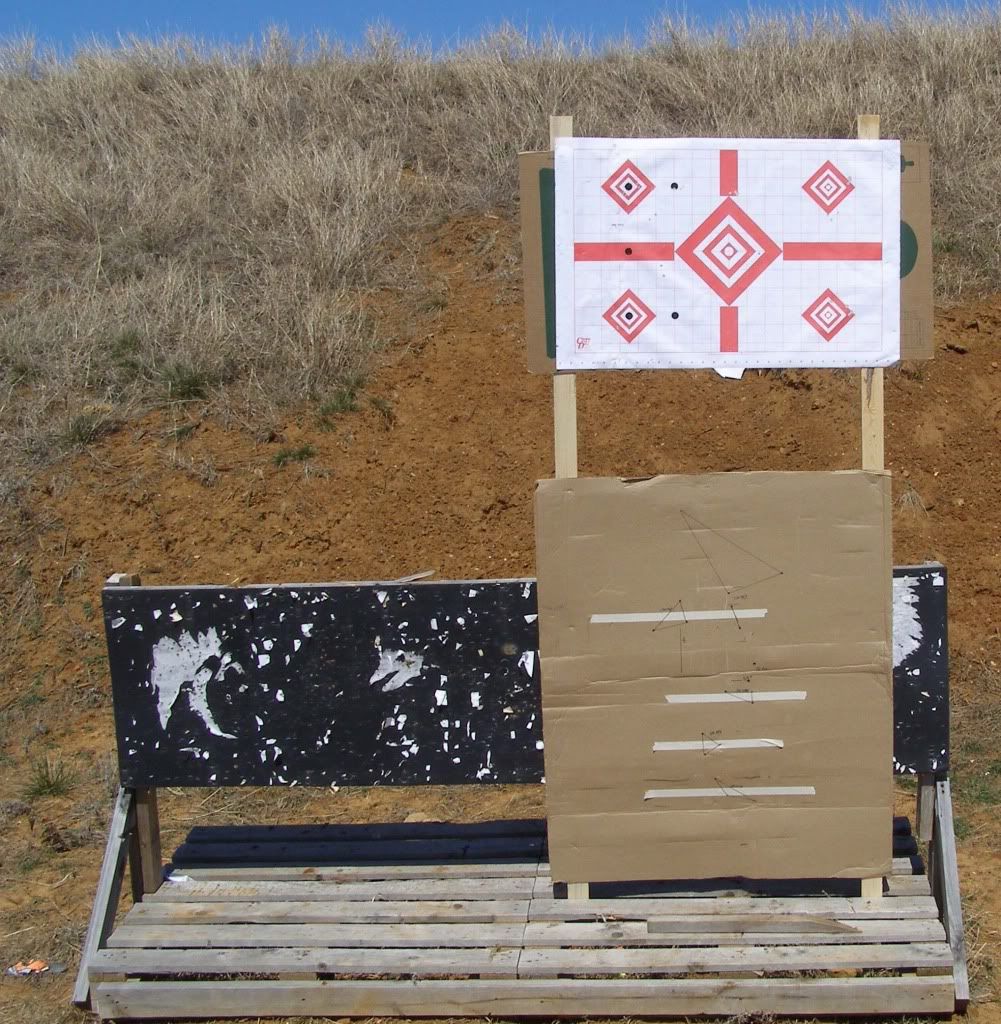 Below are the actual groupings with their bullet drop in inches listed on the masking tape. Temp was 65F and wind was variable 6 to 10 mph coming from behind, sometimes off either shoulder. I didn't show the 110gr Barnes TTSX because I messed up the scope zero adjustment, twice, and didn't get a vaild grouping. With this many loads and all with a different zero, I was bound to mess one of them up. Loads left to right, top to bottom are:
130gr Barnes TSX BC .431, 56gr IMR4350, CCI Primer, Remington Brass, COAL 3.300"
130gr Hornady GMX BC .460, 55.5gr IMR4350, CCI Primers, Remington Brass, COAL 3.325
150gr Winchester XP3 BC .503 (commercial purchase)
150gr Berger VLD BC .531, 51gr IMR4350, FED Primers, Remington Brass, COAL 3.345
Vertical group size ranged from 0.7 MOA down to 0.25 MOA. Good loads to work this distance with. The 130gr Barnes TSX has turned out to be the most reliable performer in that it is consistently grouping under 1 MOA and was spot on compared to predicted performance with an estimated/derived muzzle velocity of 3150 fps. The 130gr Hornady GMX is a new bullet I got last weekend that interested me. It has shot very well though I was surprised how much slower the velocity was compared to the Barnes. It's estimated/derived from its drop to be 2875 fps, almost 300 fps less and there is only a 0.5 grain of powder different. The 150gr Win XP3 is ammo I picked up when I bought this rifle a year ago. I shot my first group from the rifle at 150 yards and it was 1.5 inches. Because the ammo is so darn expensive, I have not used it since and was saving it for the day I go on a dream elk hunt. I'm impressed with its performance. Wish I could buy just the bullets over the counter but can't find them. The 150 Berger VLDs dropped 60 inches. Did I say 60 inches, 50% more than the Barnes? My estimated muzzle velocity of 2800 fps is either way off or Berger's claimed BC is overly optimistic. Probably a combo of both.
With the horizontal tape, I was able to adjust the scope's magnification to have the 3rd mil-dot align with the appropriate tape mark. I then made an initial mark on the side of my scope for a reference. The setting to match the 3rd mil-dot to POI at 500 yards is Barnes, 12.5x; Hornady, 11x; Winchester, 9.5x; and Berger 9x. The true mil-dot reference is 10x. Until I learn more, I'm just using the small pen marks.
I always like to practice shooting at a near life-size deer target because I just don't seem to group my bullets as well compared to shooting at a lined paper target. Both these deer are only 12" high at the chest. The first target is from my initial trip and was shot at 500 yards using the magnification-adjusted Mil-Dot reticle on the 3rd dot. The green dots are the 110gr Barnes TTSX and the magenta dot is the 130gr Barnes TSX. The green dot off to the right is my first shot where I read the wind incorrectly (my wind doping has got to improve if I'm going to shoot beyond 300 yards).
Tikka T3 Lite with Bushnell 6500 2.5-16x
This second target is from today. I found these at Cabela's Archery shop last weekend for $3 ea. I only had 150gr Berger VLDs left so shot one each from 300 yards, 400, and 500 yards with the scope adjusted to 9x. Want to guess, which one hit its mark? The shots at 300 and 400 yards are low and to the right. Why? Possible answers, I didn't have as good a rest as on the other shots at 500 yards where I had my sand bags set-up. I had hiked 1500 yards up and down the range so my heart beat was noticeable. The wind was shifting. I also have to admit, I haven't shot enough at the different ranges to figure out why the Berger's aren't performing as I expected.
Well, more work to do, more shooting, and practice, practice, practice. I can't say this alternative use of a Mil-Dot reticle is working just yet. I'm going to concentrate on shooting just the Berger bullets for a while till I have them totally understood. I'm also going to check out the scope to ensure the accuracy of the mil-dots. It better be on in its spacing for the price I paid for it but I can't leave anything assumed. Most important, this weekend I'm getting a chronograph! I'm going to need that to figure out what is really going on. I've been avoiding it mainly because my garage is full and I'm not sure where I would store it. However, after seeing pictures of Vince's garage, I'm sure I will find a niche somewhere.