hunterjoe21 wrote:
wildswalker wrote:

Morax wrote:

wildswalker wrote:

glockman55 wrote:
Hunterjoe, I do have my own range, but I would like it portable so I can move to different yardages. The one I have is too short for me, it works but I am looking to upgrade. Permanent would be easier to make. My range is used for handgun training mostly, but I do have the yardage to get about 150 yds. for Rifle shooting. Thanks for the ideas, Keep em comming.


Wouldn't a fixed bench @ the "0" yard line and a movable target frame make a lottamore sense?


I thought the same thing before, until i shot off a portable, and it is nice to have the ability to move the thing around, and if it is small enough and or light enough you take it out of the back of the car set it up sit yer butt and pop ghogs and or call in the yotes for a lead pill feeding!!




Coincidentally, the bench is attached to a 10X12 heated building, reloading bench, phone, electric, sat TV and internet. I can justify it as used nearly exclusively as a testing facility and is of little use for general riflework.





Ya got more stuff in your "testing facility" than I have in my house!!

I suppose you have little sliding windows to shoot through when it gets REALLY cold?
Guilty as charged....almost.
We do a fair bit of tinkerin' in the Shack.
Load Development, Reloadin', Bow Work, Arrow Buildin', Gun Smithin', Knife Makin', Leather Work....Man Stuff in general.
Even got a little space in there for the cabinet that stores our campin/huntin gear in the off season. Back packs, bed bags, tent, camp stove, cookin' gear, fire kit, first aid kit, lantern, axe, saw, knives, ect.........
There's a shooting bench in there somewhere, so's I'm thinkin' we're still on topic.....kinda. (grins)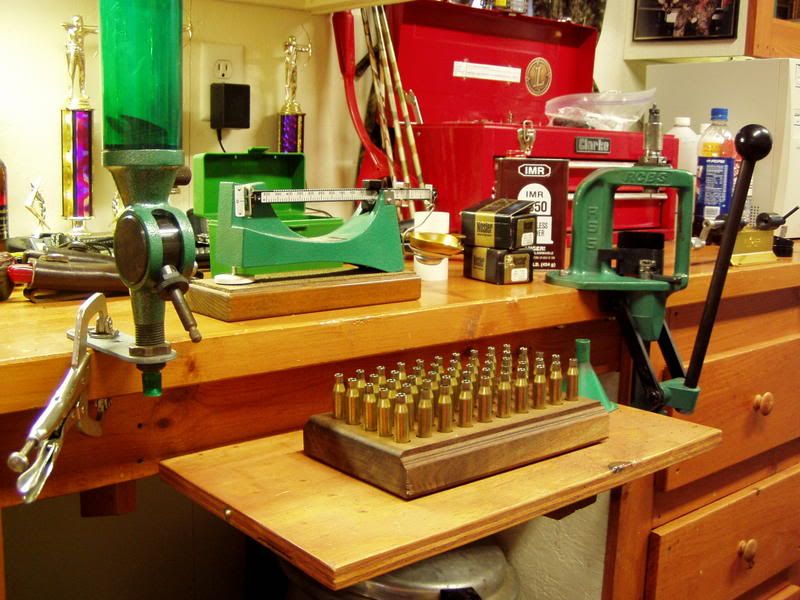 (edit for spelling)