As part of the re-stocking plan for Dad's old 1903 Springfield, I decided to finally do something about replacing that original safety lever with one more scope-friendly. There is a scarcity of replacement levers on the market so a little searching was in order. The most viable options were the LaPour, the Wisner and the Dayton Traister Mark II. I ruled out the LaPour simply because of the expense and ordered the Wisner which operates like a Winchester Model 70 safety. Upon receiving it, I was struck by the amount of machining and detail required. Not willing to butcher the rifle, I decided to try the Dayton Traister option instead. I also ordered a new bolt shroud to experiment on installing the Wisner at a later date when I have more confidence in the outcome.
The D/T lever operates as a vertical wing safety like the original lever, but only moves through a short arc on the right side of the bolt and only has two positions; Safe and Fire. I read several reviews that bemoaned the fact of difficulty in installation, but I honestly found it to be quite simple. I realize that each rifle may have fitting problems, but I installed this safety in just bout an hour.
Starting with making sure the rifle is empty, remove the bolt and completely disassemble. Make a 1/8" wide clearance cut in the right side of the bolt shroud extending down just far enough to allow full movement of the safety into the "fire" position as shown here:
I accomplished this using a diamond Dremel cutter and finished with a 1911 sight-staking file.
Next, lightly bevel the left side of the cocking engagement cut to allow the safety to cam the cocking piece back about 1/32" when engaged. This took only 3 passes of the file to accomplish.
The results are shown in both the "Fire"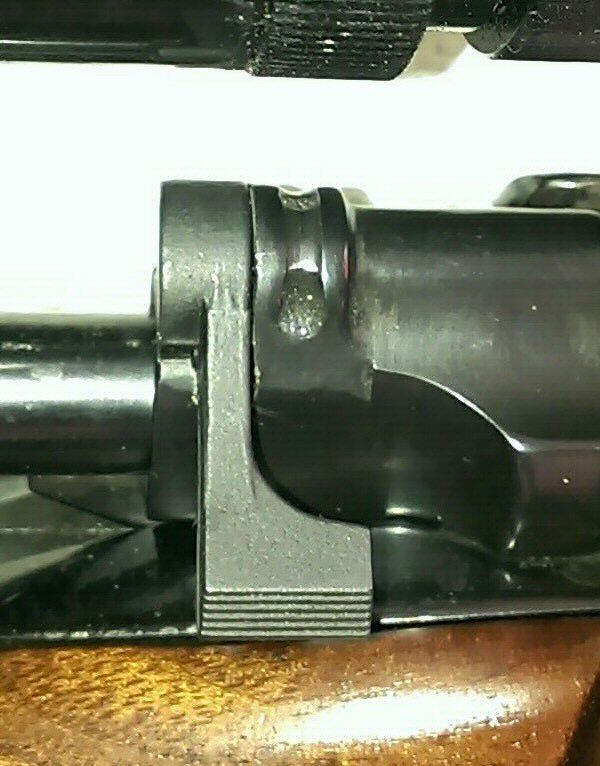 and the "Safe" positions:
Not a tough job, and helps solve part of the scope height problem. When I decide to do the Wisner conversion I'll try to post more detailed instructions.