Okay guys, as promised, here is the start of a new build. This rifle will be chambered in 300 Jr., which is a cartridge I designed and developed...
Here is a little history on the 300 Jr.:
I designed and developed this cartridge in 1994 as a tribute to my dad. The first rifle I built and chambered in the 300 Jr., was to be a gift to my dad, and when I completed the build, he wanted me to shoot a deer at 1,000 yds. with it. So, I did a complete load development on this gun and when all was said and done, 300 yard groups averaged just under an inch, 600 yard groups averaged around 2 1/4 inches and 1,000 yard groups averaged around 5 inches. Understand that I am a deer hunter and not a target shooter in any way...
I shot this gun to the maximum limit of my rifle range, which was 1,380 yards long. It use to be a place where crop dusting planes landed many years earlier. The scope stayed sighted in to strike point of aim at 600 yards, and was dialed in, in 50 yard increments, from 600 yards to 1,380 yards. All of this took place just before deer season in 1994. I had also shot a lot of deer at my shooting range, but not too many that were past the 1,000 yard mark...
Early one morning, a couple weeks into deer season, I was setting at my shooting bench, waiting for a deer to walk out into my shooting lane. While waiting for a deer to show up, 2 gentlemen showed up and identified their selves, and asked me what I was doing. I don't remember their names, but one was a Federal Game Warden and the other was local. I told them I had planned on shooting a deer at long range, and I was waiting on one to step out. They looked my rifle over, asked a bunch of questions, and asked if they could record me shooting a deer. I told them they could, only as long as I got a copy of the tape. They agreed, got their equipment out, and waited with me...
We waited and talked for probably an hour or so, and a deer finally showed up. The Game Wardens were watching through my spotting scope and binoculars. The range was 1,118 yards, and I thought the deer was closer to my range marker than what it actually was. There was "0" wind to contend with, so I dialed my scope in at 1,100 yards. I got settled in behind the gun, put the cross hairs at the top point of the front shoulder, and very gently touched the 6 oz. trigger until the gun fired. The deer just stood there, and I was heartbroken. Probably a good 10 seconds went by, and the legs just buckled under that deer, and it dropped straight down. Then another long 5 seconds went by, and the deer laid over on its side. One deer down, a perfect shot and we got it on film!
While the guys were congratulating me, one of them kept looking through the spotting scope, and said - there's another deer!
They were still set up to record, and asked if I would or could shoot another deer. I said yes, looked where it was standing, and it was next to the tree line, at the very end of my range, 1,380 yards away! I dialed my scope in, let my pulse rate slow down, and began the trigger pull. Cross hairs were on the top point of the front shoulder, and about 4 seconds later, this deer dropped and never moved a muscle! I asked the guys if they were able to record it, and they did...
About a month later, the local Game Warden came by my house, and brought a video of the 2 long shots that I had made. We ate dinner and watched that video 3 times! I was so proud of that video and wanted to pay the Warden for it, but he said the experience of watching those shots was all the payment he needed!
I had sent the video to my dad for him to watch, and it was a couple of weeks later before I got in a good enough gun case to ship that gun off in. I called my dad and told him his gun would be shipped off as soon as I got it ready, and it would ship out in a couple of days. Talk about excited!!! I had everything laid out and had just put the rifle in it's case, when the phone rang. My sister called, and said our dad just passed away....
So needless to say, this build means a lot to me, and in a lot of different ways. It will be a slow build, because everything has to perfect, and if I cannot do it to absolute best of my ability, I won't do it!
A big thank you to my customer for the opportunity to build this rifle and thank you for allowing me to post pictures along the way...
My 300 Jr., it is based on a maximized 280 Remington case with minimum body taper, a 40 degree shoulder angle and a short neck...
My furthest shot to date was with a 300 Jr. rifle that I built, and the range was 1,862 yards.. A shot that I will never be able to duplicate!
The action is a Remington 700 long action that will be set up as a single shot and will be blue-printed to match specifications...
The barrel is a Bartlein .30 caliber / 1-10" twist rate / 32" length / finish length will be 30" plus the addition of one of muzzle brakes, for an overall length of 31 1/2"...
The stock is a McMillan MBR with a 3" wide forend...
Some of the accessories that go with this build: Oversize recoil lug / lightweight firing pin with heavy duty firing pin spring / steel scope base with .040 taper / base and action will be modified for the larger 8-40 screws / steel trigger guard with new action screws / single shot follower that will be glued in the bottom of the action / trigger that will be adjusted and set to 10 oz. per customer request...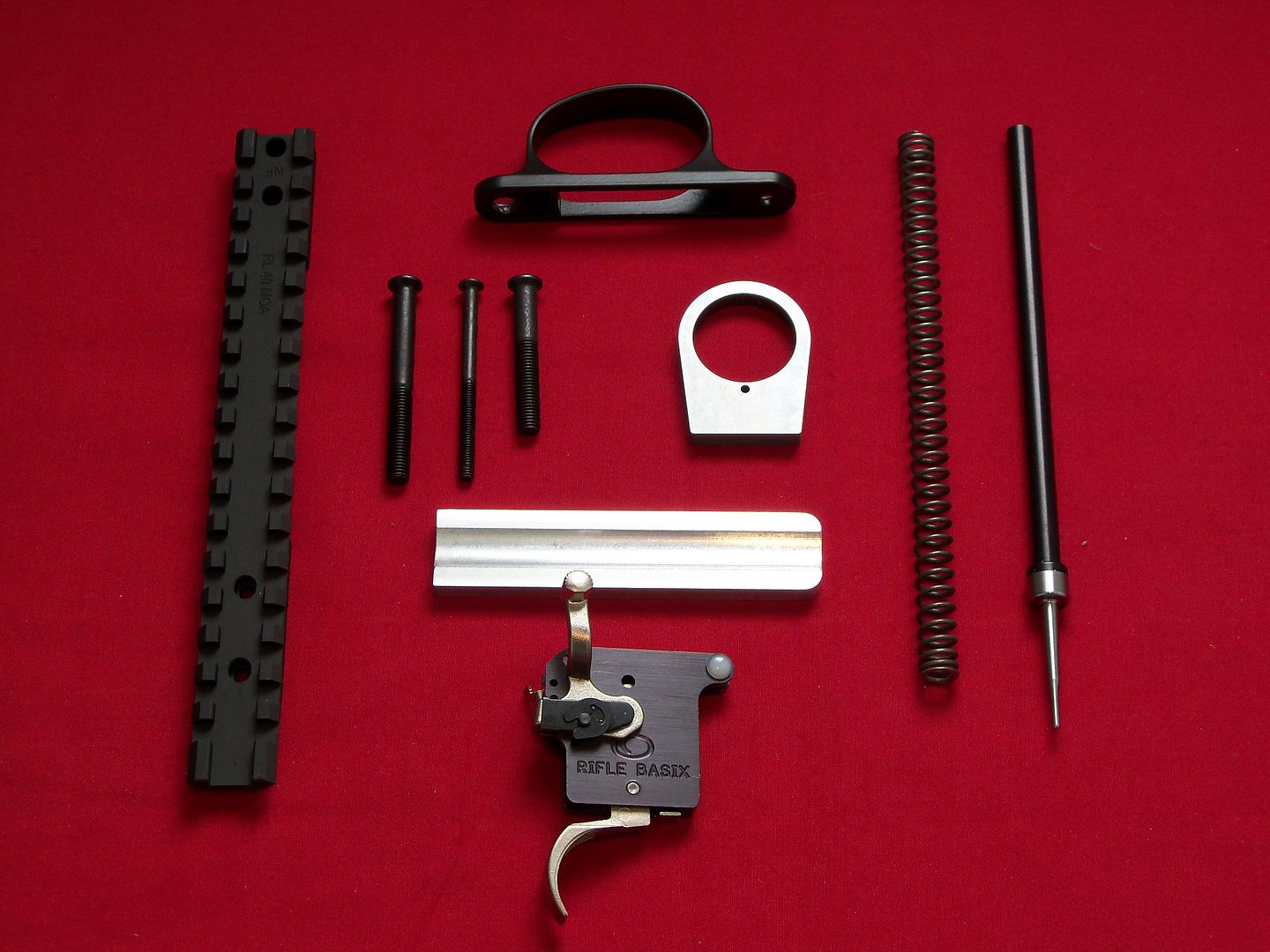 More to follow as work starts and progresses...